Drive to Change Lives Golf Tournament
Drive to Change Lives Golf Tournament
Drive to Change Lives Golf Tournament
"For the unwavering commitment to nurturing our beneficiary school MARIANO MARCOS MEMORIAL HIGHSCHOOL"
DRIVE TO CHANGE LIVES GOLF TOURNAMENT
AUGUST 11, 2017
TAGAYTAY MIDLANDS
TALISAY, BATANGAS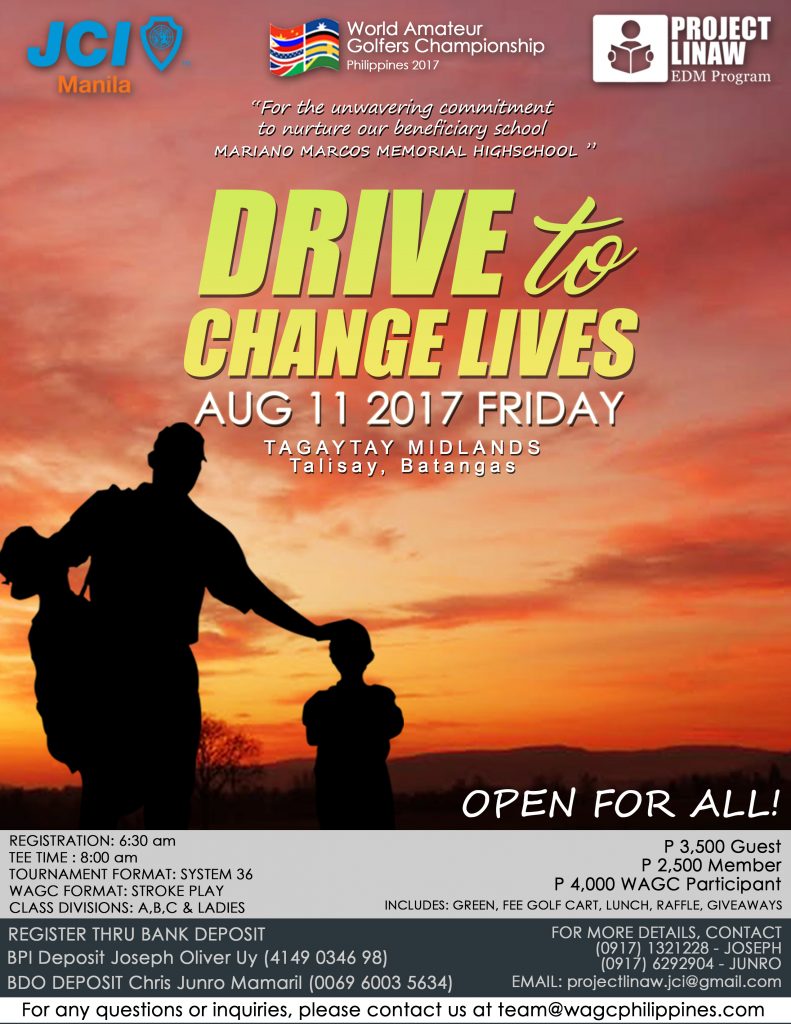 EVENT DATE: FRIDAY AUGUST 11, 2017
REGISTRATION TIME: 6:30 am
TEE – OFF TIME: 8:00 am
GOLF COURSE VENUE: Tagaytay Midlands
GCC PARTICIPANTS PROFILE: 80+ Entrepreneurs and Business Men
TOURNAMENT FORMAT: System 36
WAGC FORMAT: Stroke play
ADMISSION FEE:
MEMBERS: PHP 2,500
NON – MEMBERS: PHP 3,500
WAGC PARTICIPANT: PHP 4,000
INCLUSIONS: GREEN FEE – GOLF CART – LUNCH – GIVEAWAYS – RAFFLE


---
Why play in our tournament?
The help and support from our program will go directly to our beneficiary MARIANO MARCOS MEMORIAL HIGHSCHOOL on August 15, 2017, with over 3354 students living in the poverty line. We would like to invite you to our cause and share this great life changing opportunity aimed for the children of our future!. Currently, M. Marcos Memorial HS has one of the lowest NAT SCORES in Metro Manila at 44.06. 8.97% Dropout rate and 78.28% Graduation rate. With a student population of 3354, they only have one AV ROOM that can cater to 120 STUDENTS and two projectors shared by 89 classrooms.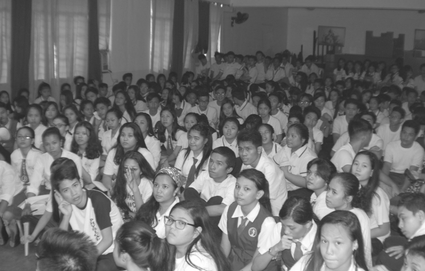 OUR GOALS
To bring the NAT score up to par with NCR Region (MPS 54). Lowering the dropout rate score from 9% to 5% in a total of 300 Students. Improve the graduation rate through various engaging educational modules. Upgrade their current facilities with better educational modules including laptops, Speakers, and a stock filled  13 TLC 32″ Flat inch Televisions. This will help us evaluate the necessary skills of their faculty members with today's technological needs.
Check out our previous Watch and Learn Projects!




---
Tournament Format: System 36
Several points will be assigned a value for the score you've played. At the end of the round, the total amount of points values will be subtracted from 36. This will be the official handicap of the participant for the golf tournament.  This allows golfers with no official handicap to compete in golf tournaments and play for low-net titles or prizes. This handicapping method is popular for charity tournaments.
Example:
A player with the score of 90 had seven pars, nine bogeys, and two double-bogeys or worse.
7 (pars) x 2 (points per par) = 14
9 (bogeys) x 1 (point per bogey) = 9
2 (doubles or worse) x 0 (points per double) = 0
Total of = 23 pointsSystem 36 calculation is subtracted from the total from 36 (it's always subtracted from 36, hence the name of this one-day handicapping method)
36 –  23 = 13
90 (gross score) – 13 (handicap allowance) = 77 (net score)


---
What is WAGC?



The World Amateur Golfers Championship (WAGC) is an International Golf Competition hosted in 45 different countries worldwide and is governed by the Rules of Golf as approved by the United States Golf Association (USGA). This year, the World Amateur Golfers Championship (WAGC) is coming to the Philippines for the first time and will be fielding a series of qualifying tournaments and National Finals to determine who will be the 5 Class Champions. These Champions will then represent the Philippines National Team at the annual World Amateur Golfers Championship, which will be held this year in Malaysia.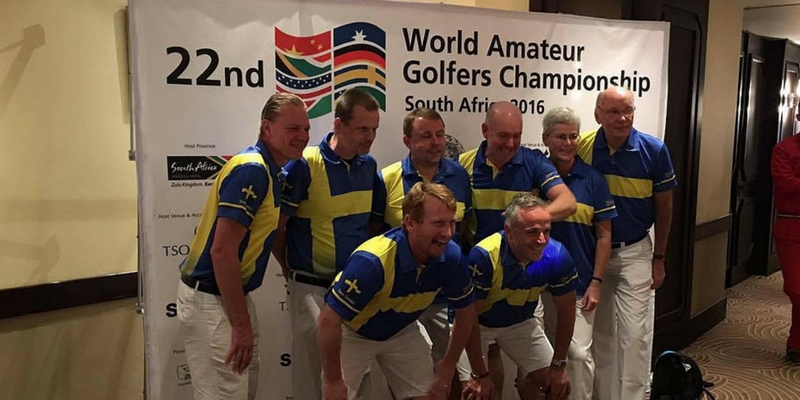 WAGC Tournament Format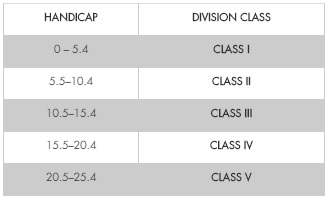 Stroke Play competition will be conducted on Net Score basis. Net winners are determined by subtracting the player's official handicap from a players gross score. Each player is then categorized based off of their lowest and most current UNHSThe WAGC is separated into 5 Handicap Flights. During a competition, players will then be randomly paired up with other competing participants in the same flight category. Final decisions on re-flighting are solely at the discretion of WAGC Officials and the Tournament Director.
For more information. Please click the link below
Tournament Format and Rules – WAGC Philippines Official Qualifier
---
DRIVE TO CHANGE LIVES GOLF TOURNAMENT RESULT
WAGC TOURNAMENT RESULT
CONGRATULATIONS TO THE WINNERS OF THE TOURNAMENT!
For more pictures visit Regent Travel Manila Facebook page!

TOURNAMENT SPONSORS:

THANK YOU FOR PARTICIPATING IN OUR EVENT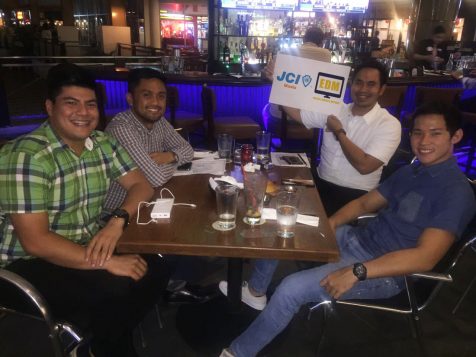 Chairman: Chris Junro Mamaril
Co-Chairman: Joseph Oliver Uy
Members:
Quino Baterna
Sherwin Yao

– JCI Manila
---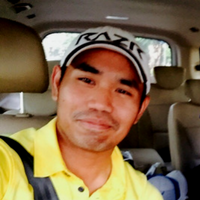 Chris Mamaril
Watch & Learn Program member
Event coordinator - "Drive to Change Lives" Content Here
Rates Per Location
Location 1: Php 100,000
Location 2: Php 50,000
Location 3: Php 25,000
Location 4: Php 15,000
Villa Escudero gives travelers a glimpse of the rustic beauty that the Philippines has to offer. The place also reflects the influence of the Spanish, Japanese and American culture in the Philippines.
View Tour
---